41 Series
The MAC 41 Series is a direct solenoid operated 4-way – 6mm – poppet valve.  A direct operated 4-way of this size with such high flow is unique to MAC due to patented design innovations.  It features an oval armature in the solenoid, a balanced poppet and powerful return spring.  These features translate into high shifting forces, fast consistent response times, high flow in a small package and long life.  For information regarding certifications (such as UL, CSA, RoHS and CE) please visit the Get Support pages on our website.
Cv (Max):  0.03
Port Size:  M3
Configurations:  Inline – Manifold:  Plug-in/Non Plug-in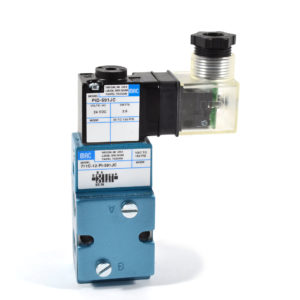 Quickview
Small 4-Way Valves
The MAC 700 Series is a versatile 4-way solenoid piloted spool valve.  This series features our balanced poppet in the pilot and an air/spring return for consistent shifting regardless of inlet pressure fluctuations.  Versatility in piping means the valve can be piped as a 4-way, 3-way, 2-way, normally closed or normally open or can be used for vacuum, diverter or selector applications.  Our one piece bonded seal spool means longer life and easy maintenance.  For information certifications (such as UL, CSA, RoHS and CE) please visit the
Get Support
pages on our website.
Application, Installation and Service Precautions
Cv (Max):  0.8
Port Sizes:  1/8"-1/4"
Configurations:  Inline - Manifold:  Plug-in/Non Plug-in