BViQ®
BViQ® brings the Bullet Valve® to the masses with a modular plug-in approach.
MAC Valves multi patented Bullet Valve® and subsequent products utilizing Bullet Valve® Technology  have brought innovation to the air valve industry with MAC's patented balanced lifting-type solenoid design resulting in superior life, reliability, and repeatability, as well as superior flow in a compact package.
The BViQ® is available in B314 and BV414 configurations featuring these innovative characteristics:
Dual Bullet Valve® Cartridge slices – reducing overall footprint
Dual 4-way slices
Intermixing of 3-way & 4-way valve slices in a common assembly
MAConnect® – available for wire-free manifold interconnects
Single fastener BV mounting – provides quick and simple assembly
Adapts via MAConnect® to several interface adapter types – including MI/O-67®
Many of the Bullet Valve® modifications available – optimized rubbers, flows, etc.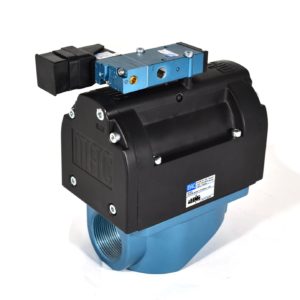 Quickview
Products
The MAC patented Pulse Valve series was developed to replace current diaphragm style technology and create a more robust and reliable valve solution in industrial applications. MAC Pulse Valves are ideal to replace existing diaphragm technology in applications such as reverse jet bag houses and dust collectors, pneumatic conveying and bulk material handling. The MAC patented Pulse Valve can be ordered in one of two pilot configurations: The Integral Solenoid pilot combines fast, repeatable pulses with the addition of a Manual Operator, while our Remote Bleed version to improve performance and reliability in Hazardous Locations.  The main body of the MAC Pulse Valve utilizes bonded spool technology for superior reliability beyond existing diaphragm technology. A checked accumulator and a main spool with memory spring are used to ensure a shift back to the home position, for times when air supply may not be adequate. A line of adapter plates has also been released to replace existing diaphragm pulse valves with a direct drop-in, without disturbing existing plumbing. It is currently available in (3) sizes; the PV03, for ¾" and 1" applications and the PV06, for 1 ½" applications, and PV09 for 2" and 2 ½" applications.