36L Series
This new valve series utilizes the patented balanced lifting technology that was developed for the Bullet Valve®, and has been implemented in the 35 Series lifting and 46 Series lifting valves. By reconfiguring the standard 36 Series push type solenoid construction to a lifting design while maintaining the balanced principles of MAC Valves, we have added the benefits of longer life and greater repeatability without sacrificing the technology that has made the 36 Series a market leader.  For information regarding certifications (such as UL, CSA, RoHS, and CE) please visit the Get Support pages on our website.
Cv (Max):  0.30
Port Size:  #10-32, 1/8″, M5
Configurations:  Inline – Manifold: Plug-in/Non Plug-in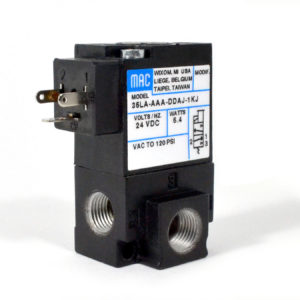 Quickview
Small 3-Way Valves
The MAC 35L Series is a direct solenoid operated 3-way poppet valve featuring our Bullet Valve™ technology (patents pending).  The Bullet Valve™ design is a unique hybrid technology that utilizes a "lifting" solenoid (denoted by the "L" in 35L) with an integrated armature/balanced poppet.  The solenoid configuration features fewer parts and fewer wear points than our standard 35 series solenoid.  Our lifting solenoid design is isolated from airline contaminants and our signature balanced design means consistent shifting forces and repeatable response times regardless of inlet pressure fluctuations.
Application, Installation and Service Precautions
Cv (Max):  0.17
Port Size:  1/8"
Configurations:  Inline - Stacking - Sub Base/Manifold:  Non Plug-in