MI/O-67® Fieldbus
MI/O-67® Communications Module from MAC Valves is available for these fieldbus protocols:
EtherNet/IP®
EtherCAT®
POWERLINK®
PROFINET®
Modbus/TCP®
The MI/O-67® communications module is the brains of the MI/O-67® platform and will be the minimum required module to implement a fieldbus solution.   Each communication module will be capable of driving up to 32 solenoids (32 singles, 16 doubles max or any combination of the two up to 32 solenoids) on the MAConnect® stack. The module has a capability of outputting 8 A max (0.5 A max per channel) to the MAConnect® stack. You can connect up to 12 additional modules to each communication module and have 8A shared across those additional modules. All of the MI/O-67® modules will operate on a 24VDC negative common setup. It will be attached to the MAConnect® stack via a valve series specific adapter.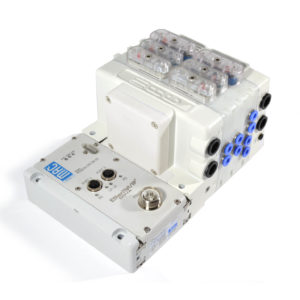 Quickview
Products
BViQ® brings the Bullet Valve® to the masses with a modular plug-in approach.
MAC Valves multi patented Bullet Valve® and subsequent products utilizing Bullet Valve® Technology  have brought innovation to the air valve industry with MAC's patented balanced lifting-type solenoid design resulting in superior life, reliability, and repeatability, as well as superior flow in a compact package.
The BViQ® is available in B314 and BV414 configurations featuring these innovative characteristics:
Dual Bullet Valve® Cartridge slices – reducing overall footprint
Dual 4-way slices
Intermixing of 3-way & 4-way valve slices in a common assembly
MAConnect® – available for wire-free manifold interconnects
Single fastener BV mounting – provides quick and simple assembly
Adapts via MAConnect® to several interface adapter types – including MI/O-67®
Many of the Bullet Valve® modifications available – optimized rubbers, flows, etc.