BULLET VALVE®
Design Features of Bullet™ Technology:
VERY FEW PARTS
LONG LIFE LIFTING SOLENOID
AN INTEGRATED POPPET / ARMATURE
BALANCED DESIGN
SOLENOID ISOLATED FROM CONTAMINATED AIR
UNIQUE MOUNTING OPTIONS
The Bullet Valve® (BV) family of products represents yet another evolution in valve technology from MAC. The Bullet Valve® line of products features MAC patented Bullet™ technology. This "lifting" solenoid configuration is unique in that the valve maintains a balanced design – a signature feature of a MAC valve. Thus, shifting forces are consistently high and response times are more repeatable despite inlet pressure fluctuations. 2-way, 3-way and 4-way configurations of the Bullet Valve® are available.
Cv (Max):  0.60
Configurations:  Cartridge – Manifold:  Non Plug-in
Click  on image to download our  Bullet Valve Catalog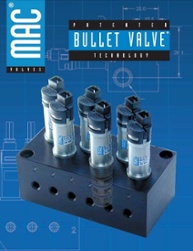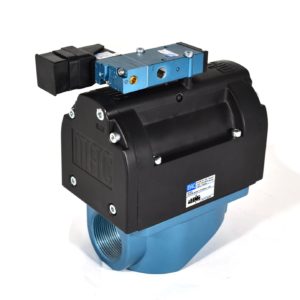 Quickview
Products
The MAC patented Pulse Valve series was developed to replace current diaphragm style technology and create a more robust and reliable valve solution in industrial applications. MAC Pulse Valves are ideal to replace existing diaphragm technology in applications such as reverse jet bag houses and dust collectors, pneumatic conveying and bulk material handling. The MAC patented Pulse Valve can be ordered in one of two pilot configurations: The Integral Solenoid pilot combines fast, repeatable pulses with the addition of a Manual Operator, while our Remote Bleed version to improve performance and reliability in Hazardous Locations.  The main body of the MAC Pulse Valve utilizes bonded spool technology for superior reliability beyond existing diaphragm technology. A checked accumulator and a main spool with memory spring are used to ensure a shift back to the home position, for times when air supply may not be adequate. A line of adapter plates has also been released to replace existing diaphragm pulse valves with a direct drop-in, without disturbing existing plumbing. It is currently available in (3) sizes; the PV03, for ¾" and 1" applications and the PV06, for 1 ½" applications, and PV09 for 2" and 2 ½" applications.