LIQUID VALVES
The MAC Advantage™ Features:
2-way, 3-way, variable flow, filling and dosing valves
Wetted and non-wetted (media-separated) solenoids
Accurate and repeatable dosing
Dual-diaphragm D-Flex™ Technology
Reliable operation in extreme environments
The MAC Liquid Valve line of products benefits from many of the same innovative features and associated benefits that have become synonymous with MAC's performance characteristics over the years. Fast response times, reliable shifting forces and repeatable results are just some of the benefits you can expect from our fluid line of products. Proportional Flow Controls (PFC's), Flow-Thru valves, Single and Dual Diaphragm (Media-Separated) valves, Wetted Solenoid valves and Dosing Fluid Pumps are a few of the product offerings in MAC's liquid valve family of products. These valves also work great in pneumatic applications that require leak tight performance. The MAC Liquid Valve line of products is designed to last longer and perform stronger in the toughest applications. With fewer wear points than traditional valve technology, these valves are designed to last!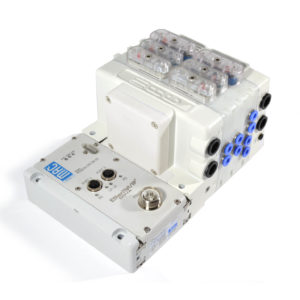 Quickview
Products
BViQ® brings the Bullet Valve® to the masses with a modular plug-in approach.
MAC Valves multi patented Bullet Valve® and subsequent products utilizing Bullet™ technology have brought innovation to the air valve industry with MAC's patented balanced lifting-type solenoid design resulting in superior life, reliability, and repeatability, as well as superior flow in a compact package.
The BViQ® is available in B314 and BV414 configurations featuring these innovative characteristics:
Dual Bullet Valve® Cartridge slices – reducing overall footprint
Dual 4-way slices
Intermixing of 3-way & 4-way valve slices in a common assembly
MAConnect® – available for wire-free manifold interconnects
Single fastener BV mounting – provides quick and simple assembly
Adapts via MAConnect® to several interface adapter types – including MI/O-67®
Many of the Bullet Valve® modifications available – optimized rubbers, flows, etc.