4-WAY AIR VALVES
MAC Valves Solenoid Operated 4 Way
Valves with 4 ports; inlet, a common exhaust and two cylinder ports, one normally open and the other normally closed.  Their common application is to operate double acting cylinders.
Air flows up to 1.2 Cv
Air flows from 1.2 Cv and hihger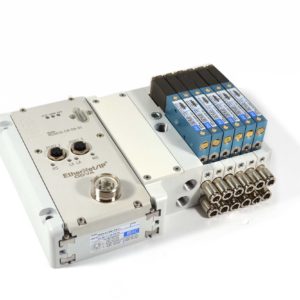 Quickview
Products
MI/O-67® Communications Module from MAC Valves is available for these fieldbus protocols:
EtherNet/IP®
EtherCAT®
POWERLINK®
PROFINET®
Modbus/TCP®
The MI/O-67® communications module is the brains of the MI/O-67® platform and will be the minimum required module to implement a fieldbus solution.   Each communication module will be capable of driving up to 32 solenoids (32 singles, 16 doubles max or any combination of the two up to 32 solenoids) on the MAConnect® stack. The module has a capability of outputting 8 A max (0.5 A max per channel) to the MAConnect® stack. You can connect up to 12 additional modules to each communication module and have 8A shared across those additional modules. All of the MI/O-67® modules will operate on a 24VDC negative common setup. It will be attached to the MAConnect® stack via a valve series specific adapter.