LIQUID BULLET VALVE®
The MAC Advantage Features:
AVAILABLE IN 2-WAY AND 3-WAY CONFIGURATIONS
NON-WETTED SOLENOID
ACCURATE AND REPEATABLE DOSING
D-FLEX™ TECHNOLOGY
RELIABLE OPERATION IN EXTREME ENVIRONMENTS
The Liquid Bullet Valve® (LBV) is the latest design innovation from MAC. With fast response times, reliable shifting forces and repeatable results – due to its patented balanced design – the MAC LBV is ideal for applications that demand reliable, low-leak performance. The LBV performs with both gas and liquid*, and is engineered to perform at the highest level throughout its life. The MAC LBV employs D-Flex™ technology to provide an exceptionally tight seal; preventing leakage and saving you product and money.D-Flex™ technology also allows the LBV to last longer and perform stronger in the toughest applications. With fewer wear points than traditional valve technology the LBV is designed to last.
*seal compatibility testing may be required
Check out our latest MAC Valves Advantage video focused on Micro Dosing or click  on the image below to download our Liquid Valve Flyer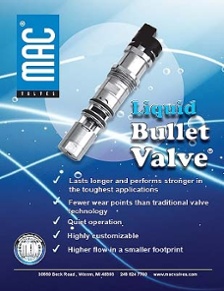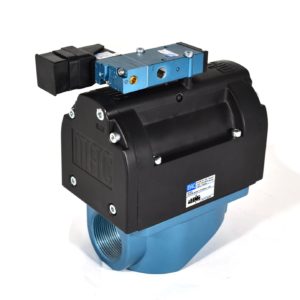 Quickview
Products
The MAC patented Pulse Valve series was developed to replace current diaphragm style technology and create a more robust and reliable valve solution in industrial applications. MAC Pulse Valves are ideal to replace existing diaphragm technology in applications such as reverse jet bag houses and dust collectors, pneumatic conveying and bulk material handling. The MAC patented Pulse Valve can be ordered in one of two pilot configurations: The Integral Solenoid pilot combines fast, repeatable pulses with the addition of a Manual Operator, while our Remote Bleed version to improve performance and reliability in Hazardous Locations.  The main body of the MAC Pulse Valve utilizes bonded spool technology for superior reliability beyond existing diaphragm technology. A checked accumulator and a main spool with memory spring are used to ensure a shift back to the home position, for times when air supply may not be adequate. A line of adapter plates has also been released to replace existing diaphragm pulse valves with a direct drop-in, without disturbing existing plumbing. It is currently available in (3) sizes; the PV03, for ¾" and 1" applications and the PV06, for 1 ½" applications, and PV09 for 2" and 2 ½" applications.
Check out MAC'S
LATEST VIDEO
featuring the MAC Pulse Valve