LIQUID BULLET VALVE®
The MAC Advantage Features:
AVAILABLE IN 2-WAY AND 3-WAY CONFIGURATIONS
NON-WETTED SOLENOID
ACCURATE AND REPEATABLE DOSING
D-FLEX™ TECHNOLOGY
RELIABLE OPERATION IN EXTREME ENVIRONMENTS
The Liquid Bullet Valve® (LBV) is the latest design innovation from MAC. With fast response times, reliable shifting forces and repeatable results – due to its patented balanced design – the MAC LBV is ideal for applications that demand reliable, low-leak performance. The LBV performs with both gas and liquid*, and is engineered to perform at the highest level throughout its life. The MAC LBV employs D-Flex™ technology to provide an exceptionally tight seal; preventing leakage and saving you product and money.D-Flex™ technology also allows the LBV to last longer and perform stronger in the toughest applications. With fewer wear points than traditional valve technology the LBV is designed to last.
*seal compatibility testing may be required
Check out our latest MAC Valves Advantage video focused on Micro Dosing or click  on the image below to download our Liquid Valve Flyer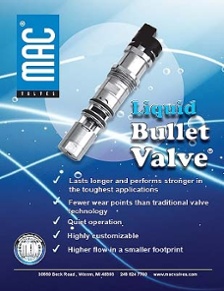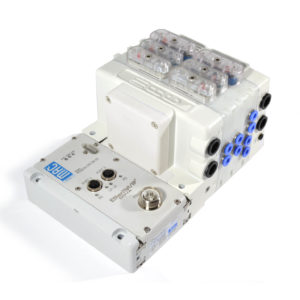 Quickview
Products
BViQ® brings the Bullet Valve® to the masses with a modular plug-in approach.
MAC Valves multi patented Bullet Valve® and subsequent products utilizing Bullet Valve® Technology  have brought innovation to the air valve industry with MAC's patented balanced lifting-type solenoid design resulting in superior life, reliability, and repeatability, as well as superior flow in a compact package.
The BViQ® is available in B314 and BV414 configurations featuring these innovative characteristics:
Dual Bullet Valve® Cartridge slices – reducing overall footprint
Dual 4-way slices
Intermixing of 3-way & 4-way valve slices in a common assembly
MAConnect® – available for wire-free manifold interconnects
Single fastener BV mounting – provides quick and simple assembly
Adapts via MAConnect® to several interface adapter types – including MI/O-67®
Many of the Bullet Valve® modifications available – optimized rubbers, flows, etc.